Out Team With the support of ABB & Panametrics knowledge about flow measurement and management, you have access to over 100 years of flow measurement and control experience to help you save cost and increase profits.
A wide range of meter sizes provide precise measurement of massflow, volume flow, density, temperature and concentration. ABB´s CoriolisMaster series has a history of success in a wide variety of industries and applications. With innovations like SensorApplicationMemory, Easy Set-up and with up to 5 modular I/Os – they save time and money during installation, commissioning and maintenance.
Benefits of using ABB´s CoriolisMaster flowmeters:
Save cost by making several measurements with one device
Reduce flowmeter maintenance by up to 90 %
No mechanical wear and minimize installation issues
Save up to 25 % on pump power
Save critical installation space


ELECTROMAGNETIC FLOWMETERS
Measuring for process management, revenue collection, liquid transportation and energy conservation. Whatever the application, ABB´s intelligent design, state-of-the-art technology and advanced features work harder and smarter to make your operations more efficient and cost-effective.
ABB offers the most comprehensive range of EMF product lines tailored to your needs.

VIS (Vega Isokinetic Sampling)
VIS is a high-performing yet compact multiphase flowmeter, tailored for wet gas applications and able to provide outstanding accuracy also in the most challenging operating regions.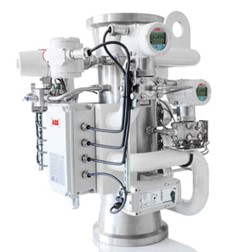 DIFFERENTIAL PRESSURE FLOWMETERS
From simple orifice plates through to custom-engineered metering systems, ABB's differential pressure (DP) flowmeters measure a variety of fluids including water, air, steam, heavy oil, slurries and molten sulfur.
ABB's thermal mass flowmeters are suitable for all industrial and test rig applications that demand quick and precise gas measurement. The flowmeters directly indicate the mass flow or normalized volume flow of gases without any additional pressure and temperature compensation. They have an impressively high accuracy, short response time and a very wide flow range with virtually no loss of accuracy even at the lowest flow rates

Variable area flowmeters are the most cost effective solution for almost all applications involving the measurement of industrial process liquids, gases or steam. ABB´s variable area flowmeters are reliable, flexible and simple. They meet the application requirements by featuring a wide range of design varieties and sizes. Technology proven, they offer a long life and high reproducibility. Variable area flowmeters are excellent mechanical back-up meters because no external power supply is needed.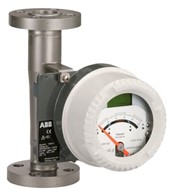 Swirl flow meters combine the measuring dynamics of turbine meters with the robustness and reliability of  Vortex flow metering by requiring shortest upstream / downstream distances. Equipped with digital signal processing (DSP) and advanced filtering techniques, these innovative flow meters from ABB allow improved flow signal detection and provide measurement immunity from the effects of hydraulic noise and pipeline vibration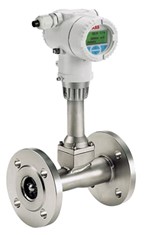 GCC Also represents Panametrics, a Baker Hughes business, which develops solutions for measuring and analyzing moisture, oxygen, liquid, steam, and gas flow with proven technologies that are well-known and widely deployed across many industries, including oil and gas.
For more than 50 years, we've been constantly evolving our product line to deliver the most effective moisture and gas measurement systems on the planet. Today, the culmination of decades of expertise, insight, and innovation is expressed in our current portfolio of gas and moisture measurement solutions:
Vortex Flow Meters
Ultrasonic Flow Meters
Flare Management Solutions
Gas & Oxygen Analyzers
Moisture Analyzers & Hygrometers
Support, Services & Training

We invite you to explore our solutions, either by industry application or by product type, and as always, should you require further assistance, please contact us today and one of our experts will be happy to assist you.

No need to answer anymore questions, your refreshed quotes are waiting for you!
Let's get back to your quotes!